2016 Legislative Session in Review
The 2016 Kentucky legislative session saw a great deal of attention brought to home birth and midwifery in the state. The Kentucky Home Birth Coalition led the effort to expand access to midwifery care in Kentucky with legislation to license Certified Professional Midwives in the state.
After sponsoring legislation in 2013 that made no progress, KHBC volunteers spent the next 3 years strategizing and raising funds to hire a professional lobbyist. In late 2015, Limestone Group lobbying firm was hired and the legislation drafting process began.
In January 2016, the beginning of the Kentucky legislative session, Senate Bill 85 (SB85) was filed. In mid-January, the first lobbying day was held with a group of more than 20 supporters traveling to the state capitol to meet with legislators. In the first day of lobbying, two Senators signed on as co-sponsors.  Numerous lobbying days followed, and within a few weeks there were 17 total co-sponsors representing over one-third of the Senate. The bill was referred to the Senate Health and Welfare Committee, where it received a hearing on February 17 and passed with a 9-2 vote. You can watch the recorded hearing here.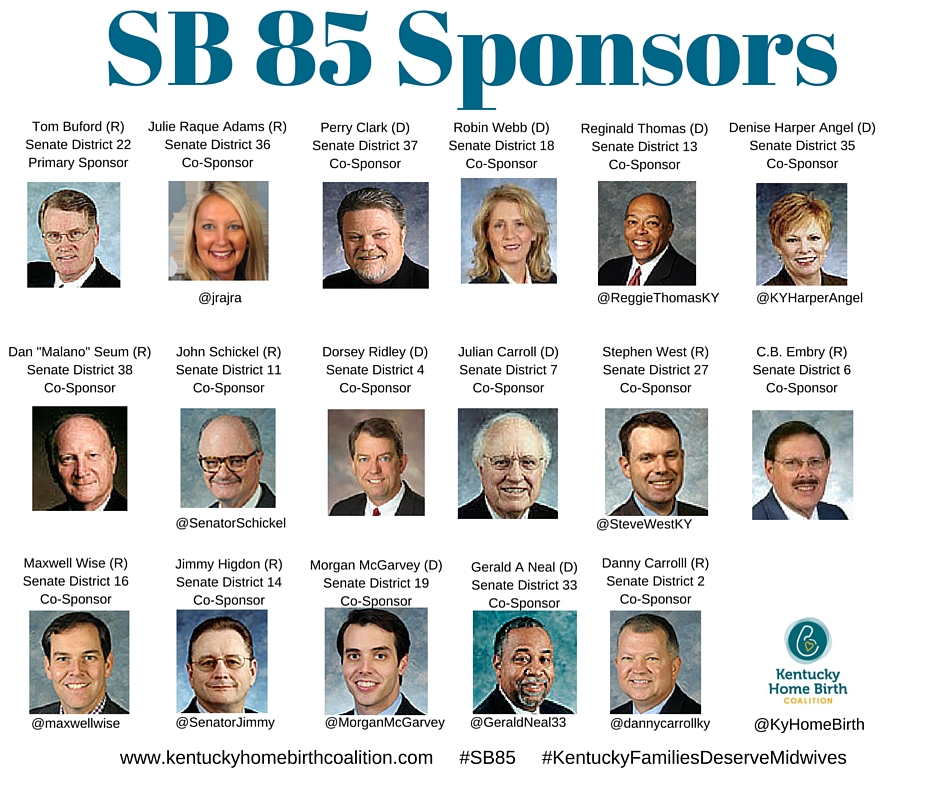 Shortly after passing out of the Health and Welfare committee, the Kentucky Hospital Association and Kentucky Medical Association took note and issued action alerts to their membership to oppose the bill. Unfortunately, the information these groups provided to their members were rife with inaccuracies. Shortly thereafter, SB85 was re-committed to the Senate Licensing and Occupations Committee. While the bill was never heard in the Licensing and Occupations Committee, the committee chair, Sen. John Schickel, a co-sponsor of the bill and himself born at home, pledged to work with KHBC in the interim period with plans of seeing the bill pass in 2017.
With the Senate bill at a standstill, the decision was made to introduce a House companion bill on March 1. HB578 was sponsored by Rep. Russell Webber, a home birth father and avid supporter of CPM licensure. The bill was quickly referred to the House Health and Welfare Committee where it was scheduled for a hearing on March 17. Less than 24 hours before the hearing, HB 578 was changed to be heard as "discussion only" with no vote taken. During the hearing, however, many committee members expressed support for the bill and their belief that the bill could pass in 2017. You can watch the recorded hearing here. Although short lived, HB578 had 5 total sponsors.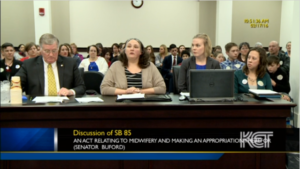 As the legislative session has now officially ended for 2016, attention is turning to working with legislators to prepare to pass legislation in 2017. Work in the interim will involve meetings with the state hospital and medical associations and the state chapter of ACOG, as well as interim legislative committee hearings. We presented at a meeting of the Joint Interim Committee on Licensing and Occupations on June 10.  To read more about that meeting, click here.
The progress made in 2016 is attributed to a very strong grassroots base of midwifery supporters. Several legislators commented on the strength and presence of supporters for numerous lobbying days as well as at committee hearings.
Kentucky Midwifery Law
KRS 211.180 says that,
"The cabinet [for Health and Family Services] shall enforce the administrative regulations promulgated by the secretary of the Cabinet for Health and Family Services for the regulation and control of the matters set out below and shall formulate, promote, establish, and execute policies, plans, and programs relating to all matters of public health, including but not limited to the following matters…..

(f) The practice of midwifery, including the issuance of permits to and supervision of women who practice midwifery;"
This language was passed into law in 1954, and "permits" were issued to direct-entry midwives until 1975.  In 1975, CHFS amended the regulations on midwifery to say that
"New applications to practice lay-midwifery in the State of Kentucky shall not be accepted after April 9, 1975."
No one knows precisely what happened in 1975 to prompt this change, but we do know that it effectively pushed direct-entry midwifery underground, and no new permits have been issued since that time.  There have been numerous efforts to change midwifery law and regulation of the past 40+ years, all unsuccessful.
A lot has changed in the midwifery landscape of the United States since 1975.  Since that time, 31 states have licensed or otherwise legalized direct-entry midwifery.  Also in that time, the Certified Professional Midwife (CPM) credential was created.  The CPM is the only midwifery credential that requires knowledge about and experience in out-of-hospital (OOH) settings.  With these changes over the past four decades, the Kentucky midwifery law from the 50s is very outdated and not in sync with modern times.
What SB 85 & HB 578 Do
Creates a path for licensure for midwives who have completed educational requirements for and obtained the nationally accredited credential of Certified Professional Midwife (CPM)
Uses the CPM credential with US MERA agreement as criteria for licensure (see below for more info on US MERA)
Allows CPMs to practice as autonomous, primary maternity care providers
Creates a Board of Midwifery tasked with writing regulations and overseeing applications, setting peer review standards, creating a public complaint process, and  is comprised of three CPMs, one CNM and one OB who have experience in OOH or collaborating with home birth families and one community member who has utilized OOH care from a midwife
Defines the scope of practice using National Association of Certified Professional Midwives (NACPM) and North American Registry of Midwives (NARM) standards
Permits CPMs to obtain and administer specific, limited medications, and order ultrasounds and appropriate lab tests
Specifies a robust set of informed consent requirements
Opens the door for communication among healthcare providers by integrating CPMs into the existing medical system (from which CPMs are currently excluded in most parts of the state)
Allows for the creation of guidelines to streamline the process of home to hospital transfers, a process which is currently not standardized
What SB 85 & HB 578 Do NOT Do
Does not license "lay midwives." Lay midwife is an antiquated and derogatory term for traditional midwives who have not gone through formal education.
Does not give CPMs prescriptive authority
Does not force a CPM to "abandon" a client in any situation
Does not create vicarious liability for hospitals or other healthcare providers
Does not infringe upon the rights of families to choose their care providers or make their own informed healthcare decisions
US MERA
US MERA stands for US Midwifery Education, Regulation, and Association.  It is a collaboration of the national United States midwifery organizations representing education, regulation/certification, and professional association for midwifery.  Since 2011, this collaborative has formulated and adopted an agreement that sets educational minimums for states creating new laws to license for CPMs.  The work of US MERA has been shaped by the International Confederation of Midwives' (ICM) Global Standards for Education, Regulation, and Association, and the ICM's Definition of a Midwife.
The agreement states:
Beginning January 1, 2020 all new CPM candidates will be required to go through a MEAC accredited program
Any midwife certified prior to 1/1/2020 will be required to obtain the Midwifery Bridge Certificate issued by NARM
A midwife who is licensed in any state that does not require MEAC education may also obtain the Bridge Certificate to qualify for licensure in states using the US MERA agreement