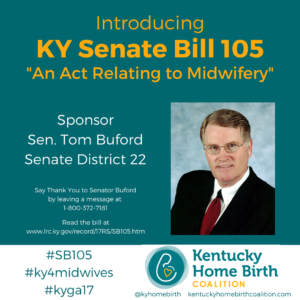 Bills to license Certified Professional Midwives in Kentucky have been filed in both the House of Representatives and in the Senate for 2017. Senate Bill 105 is sponsored by Tom Buford (R), and House Bill 148 is sponsored by Russell Webber (R). The text of the two filed bills is identical.
Read SB105 here.*
Read HB148 here*
*These pages give a summary of the bill. To read the full text of the bills, click on the link at the beginning of the description for SB105 or HB148.
Summary of SB105 and HB148

Creates a path for licensure for midwives who have obtained the nationally accredited credential of Certified Professional Midwife (CPM); Does NOT license "lay" midwives (an antiquated, often derogatory term for traditional midwives who have not gone through formal education);
Is compliant with national midwifery educational standards known as US MERA, which requires completion of an accredited education program as criteria for licensure (see below for more info on US MERA);
Creates a Board of Midwifery tasked with writing regulations, overseeing applications, creating a public complaint process, handling disciplinary actions, and is comprised of four CPMs, one CNM and one OB who have experience collaborating with CPMs, and one community member. An additional two members, which may be physicians or APRNs, will be included for an initial 5 years;
Permits licensed midwives to order ultrasounds and appropriate lab tests, and receive reports of those tests, and to obtain and administer, but not prescribe, specific medications necessary for maternity and newborn care (e.g. Rhogam, anti-hemorrhage medication, vitamin K);
Specifies informed consent requirements that must be disclosed to clients at the onset of care;
Integrates licensed midwives into the existing healthcare system, allowing open communication with other healthcare practitioners such as Obstetricians;
Allows for the creation of guidelines to streamline the process of home to hospital transfers;

Licensed midwives will be able to openly identify themselves as caregivers to hospital personnel
Medical records can be transferred and accepted
Transfers will happen sooner as families will not be fearful of a hostile hospital environment, rather than sometimes waiting until the situation is more critical;

Allows licensed midwives to complete birth certificate paperwork and perform state-mandated newborn testing, ensuring that no babies fall through the cracks;
Increases cost-effective maternal care services for rural and underserved urban populations; and
Does not create vicarious liability for hospitals or other healthcare providers.
US MERA
US MERA stands for US Midwifery Education, Regulation, and Association.  It is a collaboration of the national United States midwifery organizations representing education, regulation/certification, and professional association for midwifery.  Since 2011, this collaborative has formulated and adopted an agreement that sets educational minimums for states creating new laws to license for CPMs.  The work of US MERA has been shaped by the International Confederation of Midwives' (ICM) Global Standards for Education, Regulation, and Association, and the ICM's Definition of a Midwife.
The agreement states that any states seeking licensure for CPMs shall include the following criteria for licensure: