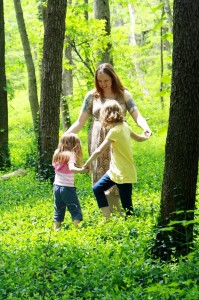 I'm Kelli Haywood a mother of three daughters from the mountains of southeastern Kentucky and a KHBC volunteer.  My third daughter was born at home almost a year ago now.  My journey to homebirth was a long one.  When I became pregnant the first time, I knew I wanted the care of a midwife.  I had been a support person for my sister's unmedicated childbirth attended by a certified nurse midwife in the hospital.  It was so empowering for my sister and I to experience this transformation with such loving and professional support from her care provider.  However, at the time of my first pregnancy, I was living in Louisville and I could not find a midwife who attended births in the area hospitals.  Midwifery has always been such a huge part of the traditions of childbirth where I'm from in the coalfields of Kentucky and we do have CNMs attending hospital births here.  I did not understand why I couldn't find a midwife.  I was incredibly disappointed.  I also didn't know that homebirth was an option because the birthing climate in our state kept these wonderfully educated and experienced midwives underground and only available to women "in the know."
At the time, I made what I felt was the next best choice for me.  I chose an all female obstetric practice as my care providers.  I did everything I knew to do to keep my pregnancy and birth safe and healthy.  I experienced an amazing pregnancy with no complications.  When my doctor told me that my baby was "too big" and I would need a cesarean at 38 weeks, I was devastated.  I wasn't even in labor and my baby and I were both healthy.  I didn't understand how it could end this way.
After becoming a mother, I met an amazing group of women and care providers, both obstetricians and midwives who truly support a mother's rights in childbirth to both informed consent and informed refusal.  I realized that the intervention in my birth was very possibly unnecessary.  From there I became a pregnancy and birth advocate, and have certified as a childbirth educator, prenatal yoga instructor, and trained as a birth counselor and birth doula.  I am dedicated to the empowerment of women in childbirth and I firmly believe we need access to all types of care providers in order to make birth as safe and healthy as it can be in Kentucky.
Since moving back to my mountain home, I have become saddened to find that there are very few options for women in my region who want to birth where they are most comfortable to find a midwife who will attend them in their home.  There simply are none living among us, so we must search far and wide, often pulling out all the stops before finding someone willing to attend us.  The fact that this is the truth of this region is heartbreaking as we are the home to the Frontier Nursing Service/Frontier University, a primer midwifery education program in this country.  The FNS midwives achieved better results in the humble mountain homes than physicians of the era were achieving in the hospitals.  They clearly have shown that homebirth is a safe option for women.
I support the efforts of KHBC to change our current climate towards homebirth in the state because it is imperative that a rural population such as mine has access to homebirth midwifery care.  I live in a county where there is no hospital and the closest is 30 minutes away for most of us.  Transportation is a concern to many in our region, and many do not attend prenatal appointments as recommended.  There is so much that the in-home midwifery model of care could offer our families.  Our county comparative with population has a significant amount of homebirthing families even in this non-conducive environment.  The homebirth option is that important to us.  We need the support of people who care about mothers, babies, and families to join in and make our voices heard!