Hello, my name is Les Brown. I'm from Scottsville (Southern Ky), and I'm a 5th generation hog and cattle farmer.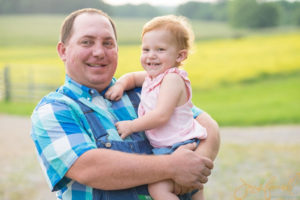 I have 1 daughter, Marley Ann Brown.  My wife and I planned a home birth with CPMs in the summer of 2014.
When my wife and I realized we wanted home birth to always be an option for us and our fellow rural farm families, we decided to make volunteering for KHBC a family priority.
I can't leave the farm to go to Frankfort, but I help by supporting my wife in her travels to Frankfort.  I also help her with local fundraising.  We have hosted 3 movie screenings in Bowling Green, Ky.  I also help by gathering letters of support from our neighbors to send legislators.
I hope KHBC can see their already impressive grassroots grow.  I want to see more men and women step up and tell our legislators how important midwives are to us, but I would especially love to see more men get involved.  While I can't travel to Frankfort I have met with my legislators locally and I feel my presence has made a difference.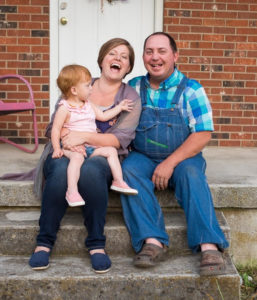 If someone is hesitating to get involved I would suggest starting small.  My wife is a community liaison and I know she sometimes just asks us to help make phone calls, collect letters or attend fundraisers.  As for me I can't commit a great deal of time or resources because of my demanding job as a farmer, but I am able to help in small ways and by supporting her.