Kentucky Home Birth Coalition is working hard to expand access to home birth midwives in Kentucky. Come to one of these free meetings to learn about:
1) Our 2017 legislation
2) How you can help
3) How to contact your legislators
Anyone can attend. You do not have to have had or ever plan to have a home birth. If you believe that families who want to have a home birth have a right to have access to qualified, legal midwives, then you can get involved! Children are always welcome at our meetings.
Thursday, February 9, 2017
6-8pm CST
Christian County Cooperative Extension Service Room A
2850 Pembroke Rd, Hopkinsville, Kentucky 42240
RSVP
Saturday, February 11, 2017
1:30-3:30pm EST
Boone County Public Library – Walton Branch
21 S Main St, Walton, Kentucky 41094
RSVP
Sunday, February 12, 2017
2-4pm EST
Life Church
210 Beatty Ave, Corbin, Kentucky 40701
Past Meetings
Sunday, January 22, 2017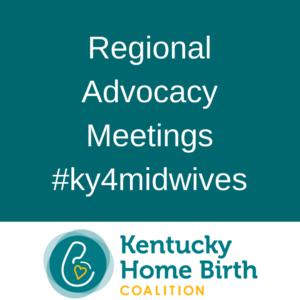 3-5pm EST
Louisville Midwifery Office
4602 Southern Pkwy, Louisville, KY 40214
RSVP
Monday, January 23, 2017
7-9pm EST
Lexington Public Library, Tates Creek Branch
3628 Walden Drive, Lexington, Kentucky 40517
RSVP
Thursday, January 26, 2017
2-3pm CST
Spencer's Coffee
915 College St, Bowling Green, Kentucky 42101
RSVP
Saturday, January 28, 2017
1-3pm CST
Health Health Foods
3530 Lone Oak Rd, Paducah, Kentucky 42003
RSVP
Sunday, January 29, 2017
2-4pm EST
Pikeville Area Family YMCA
424 Bob Amos Dr, Pikeville, Kentucky 41501
RSVP
Friday, February 3, 2017
4-6pm CST
Gene's Health Food, Inc
1738 Sweeney St, Owensboro, Kentucky 42303
RSVP
Saturday, February 4, 2017
1-3pm CST
ECTC Leitchfield Campus
101 East Carroll Gibson Blvd, Leitchfield, Kentucky 42754
RSVP
Saturday, February 4, 2017
10am-Noon EST
Lexington Public Library, Beaumont Branch
3080 Fieldstone Way, Lexington, Kentucky 40513
RSVP
Sunday, February 5, 2017
2-4pm EST
Rowan County Public Library
75 Beacon Hill Rd, Morehead, KY 40351
RSVP