KHBC is holding a lobbying day in Frankfort! We will have a meeting room reserved and we want as many supporters as possible from all across the state to join us.
Our specific meeting location will be:
The Capitol Annex Building (directly behind the Capitol)
Room 113- this room will be our "home base." Please watch for updates in case our room changes.
Click here for directions and parking information.
We will be meeting face-to-face with Senators to discuss our bill. This is the perfect time to meet with your legislator and have support with you including steering committee members and/or members of our lobbying team. We will have resources to prepare you.
Our lobbyists have asked that everyone going call your senator's office yourself and ask to schedule a meeting.
Don't know your Senator?   You can look up his or her information here.
Call your SENATOR'S annex phone number and ask to schedule a meeting. Say that you are a constituent of your senator, and that you will be in Frankfort on January 13 with the Kentucky Home Birth Coaltiion and you will be available from 8:30am until 1:00pm (You could also meet after this time, we just won't have our meetng room after that time). You would like to meet with Senator ____ to discuss the bill that will be filed in the Senate this session. PLEASE LET US KNOW WHEN YOU HAVE A MEETING SCHEDULED!
Every citizen is invited to attend– moms, dads, aunts, uncles, grandparents, those without children, everyone who supports a family's choice to having a qualified birth attendant of their choice.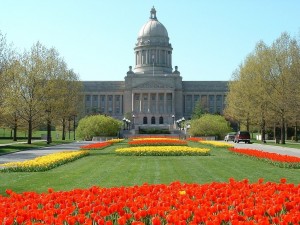 Professional attire is preferred.
Babies that are non-mobile and can be worn in a carrier or sling are welcome to join us.  Older children who are willing to sit through meetings, or even speak to legislators themselves, are also welcome to attend. (A great lesson in civics!)
Additional details will be updated soon — follow and RSVP on our Facebook event for up-to-the-minute details.