FOR IMMEDIATE RELEASE
Contact: Chris Megginson
Cell: 270-403-1503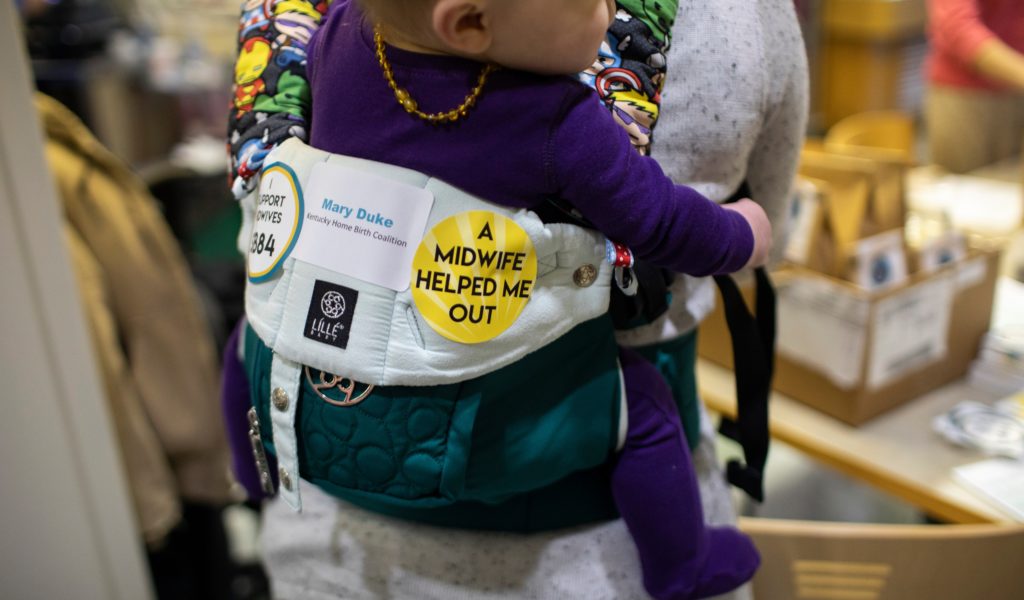 Kentucky Senate Passes Midwifery Licensure Bill

By Chris Megginson

FRANKFORT, Ky. — Nearly 700 families a year have a home birth in Kentucky, however most midwives attending births are doing so without a state-issued license. Senators in Kentucky voted Thursday, Feb. 21 to change that.

Senate Bill 84 (SB84), sponsored by Sen. Tom Buford (R – Nicholasville), will license certified professional midwives. The bill, which seeks to help complete the circle of birth options in Kentucky, passed the senate with a 32-4 vote, two days after clearing the Senate Committee for Licensing, Occupations & Administrative Regulations.

Since 2012, the Kentucky Home Birth Coalition (KHBC) has brought forward a version of the licensure bill to the Kentucky General Assembly, following a legislative and legal effort to re-establish licensed midwives in Kentucky which dates back to the 1980s. Kentucky previously issued permits or licences to midwives from 1950 until 1975.

"Licensure for certified professional midwives is the missing piece to integrate them as partners in the existing maternity care system. We know from studies that integration of midwives improves many outcomes across the board. Without licensure, this integration is stifled along with efforts for quality improvement measures," says Mary Kathryn DeLodder of KHBC.

The bill also provides added security and safety for families by licensing only midwives who have been nationally certified by the North American Registry of Midwives (NARM) and met the required education and training criteria.

"Right now, it is hard to verify this. Families also currently have no way to report experiences with negligent providers," DeLodder said.

SB84 now moves to the House to be assigned to committee. KHBC supporters have made countless calls to their legislators, had one-on-one meetings in Frankfort and at community meetings across the state as they seek to become the 34th state in the United States to establish a state license for CPMs.

"Our supporters have been great in making contact with their legislators, and we need them to keep making contact. We are working hard to have a meeting with all 138 legislators," DeLodder said.

Co-Sponsors of the bill are Sen. Julie Raque Adams (R), Sen. David Givens (R), Sen. Mike Wilson (R), Sen. Paul Hornback (R), Sen. Denise Harper-Angel (D), Sen. Reggie Thomas (D), and Sen. Perry Clark (D).

Senate Bill 84 will create a diverse CPM Advisory Council under the Board of Nursing, including midwives, physicians and Advanced Practice Registered Nurses (APRNs), such as nurse practitioners and certified nurse midwives.

Certified professional midwives specialize in "low tech, high touch" care and provide care only to healthy women experiencing low-risk pregnancies. This includes a full course of prenatal care through six weeks postpartum care. CPMs do not provide services for people who have health circumstances that should be managed in a hospital and do not replace a pediatrician.

The bill will not only provide a license to certified professional midwives, but will require a completion of birth certificate paperwork, newborn testing and annual reporting requirements consistent with requirements of other health care providers.

The bill will allow for open communication with healthcare practitioners, obstetricians and pediatricians and provide safety for midwives to openly identify themselves to caregivers to provide medical records should a transfer of care be needed.

Passage of the act will also allow CPMs to order medical tests necessary to confirm that home birth is a safe option, and establish a specific list of critical safety medications that CPMs may obtain and administer (but not prescribe), such as medication to manage sudden postpartum hemorrhage.

In Kentucky, 1.2 percent of all births occur in the home as of 2015 – above the national average. The World Health Organization, American Public Health Association, and the Royal College of Obstetricians and Gynecologists in the United Kingdom support home birth as a viable choice for women with uncomplicated pregnancies.

In the largest study ever conducted of planned home births, 89.1% of the 16,924 participants successfully and safely gave birth at home with a midwife. The study also reported a total rate of 5.2 percent of births that were transferred for a cesarean delivery. The U.S. hospital-based samples report a 32.8 percent cesarean rate. Of the 16,924 births reported in the study, 1,024 were vaginal births after cesarean (VBAC) with an 87 percent success rate. The most common reason for transfers to a hospital from a home birth is a failure to progress or fatigue.

Births associated with CPMs through planned home births are associated with high rates of breastfeeding (86 percent of newborns exclusively breastfed at six weeks old) and good APGAR scores – only 1.5 percent of newborns had a low APGAR score (less than 7).

-30-


www.kentuckyhomebirthcoalition.com – (502) 465-5422 – info@kentuckyhomebirthcoalition.com