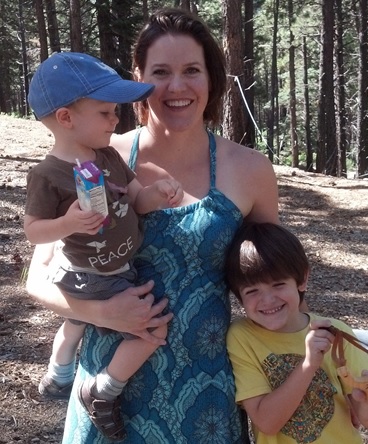 My name is Susan Kennedy and I am a mother of two young boys in Louisville, KY.  We moved to Louisville, my husband's home town, shortly after the birth of my first son 6 years ago.
I was pleased with Louisville's independent spirit, its friendly community of like-minded mamas, and the prevalence of neighborhood parks and yoga studios.  In the four years between my first son's birth and my second pregnancy, I heard little about midwifery in Kentucky.  After searching for an well-woman care provider that shared my views on natural pregnancy and birth, I found a disheartening lack of midwives in town.
I ended up settling for a large OB/GYN practice in a big hospital near my house and not getting satisfactory answers to my health care questions.  They seemed to withhold medical information on purpose to retain some sort of power over the patient.  After a particularly unpleasant experience of being prescribed non-evidence-based medication and surgery for a condition I was able to heal on my own, I knew I could not go back.
When I became pregnant with my second son in 2010, I looked up the closest birth centers and spent the next hour looking at maps and calculating driving times (all too far).  I made an appointment with the midwives at Clark Memorial Hospital in southern Indiana, but cancelled it when I found they didn't accept my health insurance.  Neither did the OB/GYN in Louisville I had heard was friendly to natural birth.
When I finally found our local midwives that attend home births, I found everything I wanted and needed.  Experienced professionals with respect for the female body's natural power for pregnancy and birth.  Wise women who were concerned about my emotional health as well as my physical health.  Midwives who practiced true evidence-based medicine, with the experience of generations behind it.  Practitioners who empowered me to take responsibility for my own birth.  I had a lovely natural home birth, as peaceful as I could have wished for.
That midwives are not free to practice the full scope of their profession while OB/GYNs can administer risky medication and perform unnecessary surgery on healthy women is unfair.  I volunteer my time and energy to support the Kentucky Home Birth Coalition because I believe midwifery is the peaceful way, the wise way, the natural way.  Changing Kentucky's laws to make space for midwifery is a step toward peace.
My current role with KHBC is to manage our new Etsy shop fundraiser, www.etsy.com/shop/PrettyPeaceful.  I make things to donate to the shop, post the listings, and ship items.  If you'd like to be one of the shop's contributors, email me at susanek@umich.edu.  All proceeds go directly into KHBC's bank account to fund lobbying in the 2015 legislative session.