On Friday, June 10, the Kentucky Home Birth Coalition was invited to present to the Joint Interim Committee on Licensing and Occupations. This committee is comprised of legislators who sit on the Licensing and Occupations Committees in both the House and Senate. During the interim period when the legislature is not in session, committees from both chambers meet jointly to learn about issues that will be presented in the coming session. About a dozen home birth supporters were present as Mary Kathryn DeLodder and Rebecca Dekker addressed legislators.
You can watch the video recording here. Our portion begins at 32:50, with the question and answers beginning at 42:30.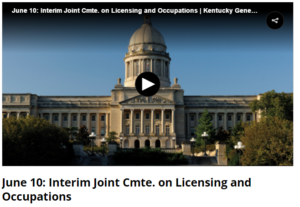 Several legislators had questions and comments, including Senator Tom Buford (R) of Jessamine County. Sen. Buford has been the primary Senate bill sponsor in 2013 and 2016.  Sen. Buford said, "What you're dealing with here, for the most part, is a turf battle of money with the hospital versus in home. We might as well set that on the table right now and make that very clear to everyone that's in this room."
Sen. Buford went on to add, "[M]aybe we should look at [other jursidictions] and see if we can mirror-image those [rules] to see if we can appease those individuals that think [birth] will not work after, I don't know, if you read the Bible, we've been here 11,000 years; if you believe otherwise, you know, we've been here 2 million years with individuals living around the world.. We've been able to survive somehow without all these 5,000 regulations, so I think that we may be able to continue."
Representative Tom Burch (D) of Jefferson County, joint chair of the Interim Joint Committee on Health and Welfare and chair of the House Committee on Health and Welfare, said, "It's about money, more than anything else. And I have two grandchildren that were delivered by midwives, and they're the healthiest bunch that I've got."
No votes are taken on issues during interim meetings.