As our volunteers arrive home from Frankfort today and settle in, we want to share the Good, the Bad, and the To Do's with our supporters.
The Good is that we have 2 new co-sponsors: Senators Wise and Embry!  Please thank them for their support!
The Bad is that our hearing in the Health & Welfare committee is NOT going to be tomorrow. Mary Kathryn spoke directly with the committee chair, Sen. Julie Raque Adams, and she indicated that our bill would be heard "next week at the earliest." She was very complimentary of our advocacy efforts.
It seems as if the Kentucky Hospital Association is voicing "concerns" about the bill to Senate leadership. The challenge is that those "concerns" have not been fully shared with us in order to address or even discuss them. Mary Kathryn spoke directly to the KHA lobbyist in the capitol cafeteria today to urge KHA to further communicate with us.
The To Do's:  We want to get messages to the Senate Leadership about the real story of how the hospital association is not communicating with us. We ESPECIALLY need people from Senate President Robert Stivers district.
1.  Everyone can and should call the legislative message line at 1-800-372-7181 and ask to leave a message for the Senate Rules Committee (this encompasses the leadership).  Message should be:  "Please support SB85 and help it be heard before the Health & Welfare Committee on Feb. 17."
Have every individual voter in your family call and leave the same message.
2. If you live in their district, call, write, e-mail, and/or tweet them directly.   Need to know how?  Check this out!
As a constituent…
Ask for his/her support of SB85 to license Certified Professional Midwives.
Ask that he/she help this bill move forward and be heard by the Health and Welfare Committee on Feb. 17.
Mention that we have been working with other groups to address their concerns, specifically the OB/GYNs (ACOG).  We are in active dialogue with ACOG and have prepared a "committee substitute" to address their concerns.
Mention that the Kentucky Hospital Association has not shared their concerns with us despite our many attempts to communicate with them. Let them know that we are disappointed that communication with KHA has been difficult to engage.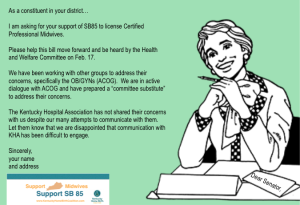 3.  We need to meet with Senate President Robert Stivers.
If you live in, or know anyone who lives in Senate District 25:  Clay, Knox, Lee, Owsley, Whitley, or Wolfe Counties, please contact us immediately.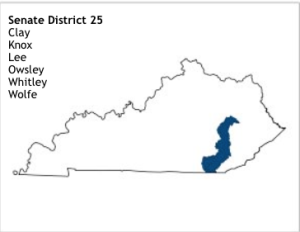 Below is a list of all Senate members on Leadership and their status with regard to SB85.
Other things you can do…
Participate in our Selfies for SB85 Campaign!
Share your Kentucky Home Birth Story
Change your Facebook or twitter profile pic or cover image.
Like, Share, and Comment on our social media posts!
Schedule a meeting with your State Senator!  Whether it's in Frankfort or in your hometown, a member of the KHBC team will be there (literally!!) with you every step of the way.