KHBC is holding another lobbying day in Frankfort!


We will be meeting face to face with Senators to discuss SB85. This is the perfect time to meet with your legislator and have support with you, including steering committee members and/or members of our lobbying team.
Let KHBC be your Frankfort-Doula when you meet with your Senator!
For the Facebook event, and up-to-the-minute info click here.

We want as many supporters as possible from all across the state to join us. Invite your friends!

We will have resources to prepare you!
Every citizen is invited to attend– moms, dads, aunts, uncles, grandparents, those without children, everyone who supports a family's choice to having a qualified birth attendant of their choice.

1. CALL YOUR SENATOR AND ASK FOR A MEETING ON THIS DAY.
Find your SENATOR here: http://www.lrc.ky.gov/Find%20Your%20Legislator/Find%20Your%20Legislator.html
Call your SENATOR'S annex phone number and ask to schedule a meeting. Say that you are a *constituent* of your senator, and that you will be in Frankfort on February 23 with the Kentucky Home Birth Coalition and you will be available from 8:30am until 11:45am (You could also meet after this time, we just won't have our meeting room after that time). You would like to meet with Senator ____ to discuss SB 85.
2. LET US KNOW WHEN YOU HAVE A MEETING SCHEDULED!

We will focus on meeting with Senators we have NOT yet reached, or with Senators who need to hear *more* from their constituents: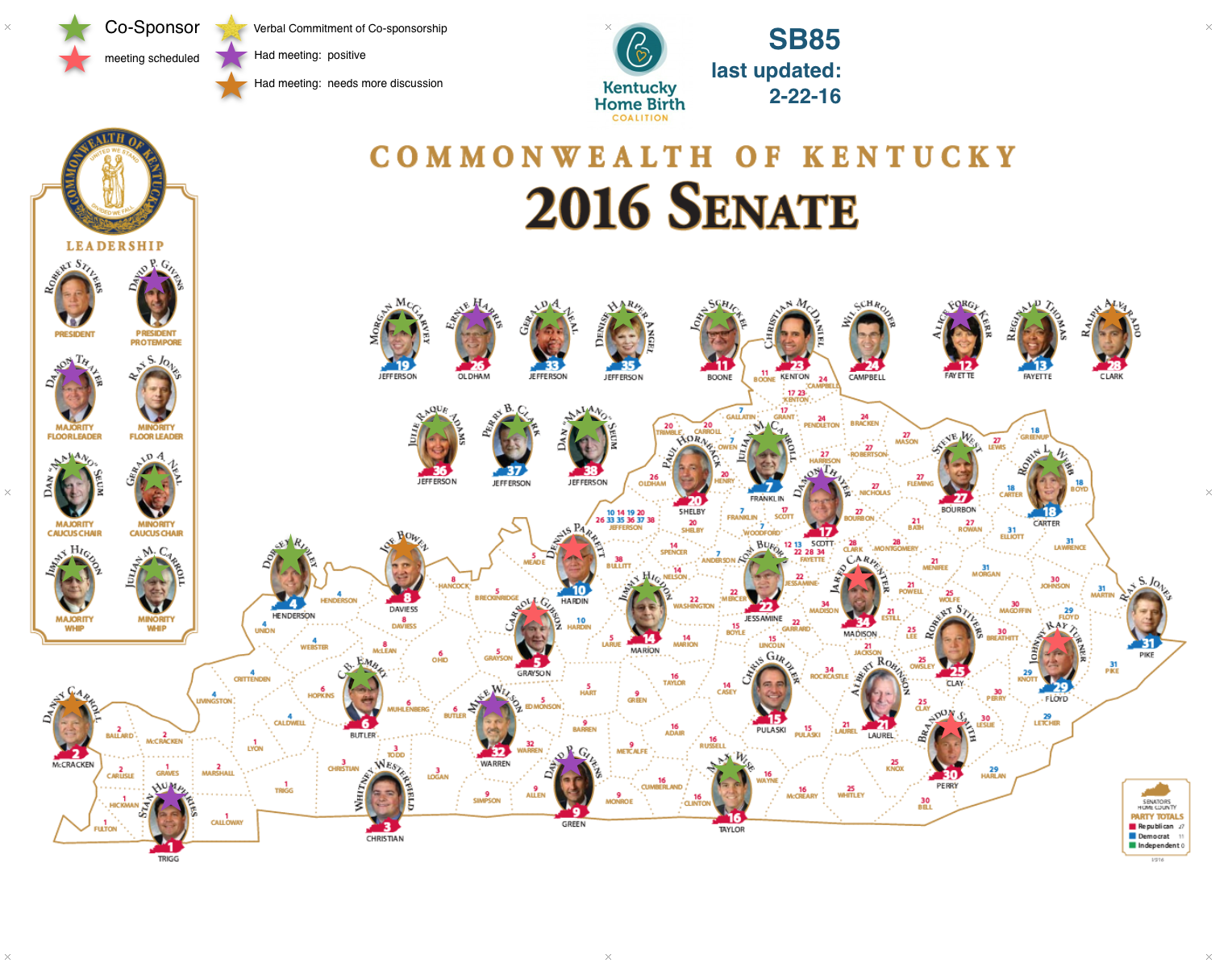 Scheduled Meeting Times (as of Monday at 2:30)
If you are in one of these districts, you can join one of the already scheduled meetings. This list will be updated as more meetings are added.
10am: Sen. Carpenter – District 34 (Fayette Co., Madison Co., Rockcastle Co.)
10:30am:  Sen. Alvarado – District 28 (Clark, Montgomery, and part of Fayette) We need more Constituents to attend this meeting
10:30am: Sen. Smith – District 30 (Bell, Breathitt, Johnson, Leslie, Magoffin, Perry)
10:45am: Sen. Parrett- District 10 (Hardin, Jefferson)
Noon- Sen. Turner – District 29 (Floyd, Harlan, Knott, & Letcher)
12:30:  Sen. Gibson – District 5 Breckinridge, Edmonson, Grayson, Hart, Larue, or Meade
If you can not make it to Frankfort on Tuesday, PLEASE call your Senator and let him or her know that you SUPPORT SB85.
We also have some on-going Action Items that need your help!